Phonics and reading in ks1
Phonics
At Greatfield Park Primary School we follow the Read Write Inc programme to teach phonics. Read Write Inc starts in Nursery where children learn the Set 1 Speed Sounds. The Read Write Inc learning journey then continues into Reception and Key Stage 1. Children are assessed at the end of each half term, are grouped accordingly and progress through the programme providing suitable challenges for their assessed phonics level.
Phonics Screening Check
In Key Stage 1 children are assessed at the end of Year 1 using a Government Statutory Assessment Tool known as the Phonics Screening Check. This screening check confirms whether the child has learnt
Reading
We place our books into book bands and, therefore, the children are able to read a variety of books rather than just one scheme.
Reading books are graded by difficulty by reading levels known as Book Bands. Each Book Band has its own colour. The chart below gives an indication of the range of Book Band levels at which most children will be reading as they progress through primary school.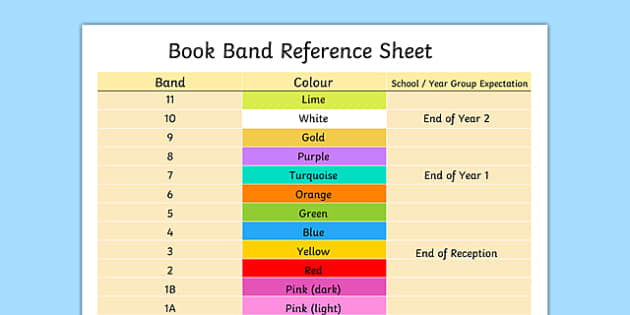 The chart shows the progress of an 'average' band of children- but no individual child is 'average', so no child makes smooth progress precisely in this way. Children tend to learn in fits and starts – periods of growth followed by periods of consolidation when their progress seems to halt for a while. The periods where you don't see rapid progress may be worrying, especially after a 'growth spurt', but they are important as your child develops confidence in using and applying their newly acquired skills. If you are ever worried about your child's progress, talk to their teacher